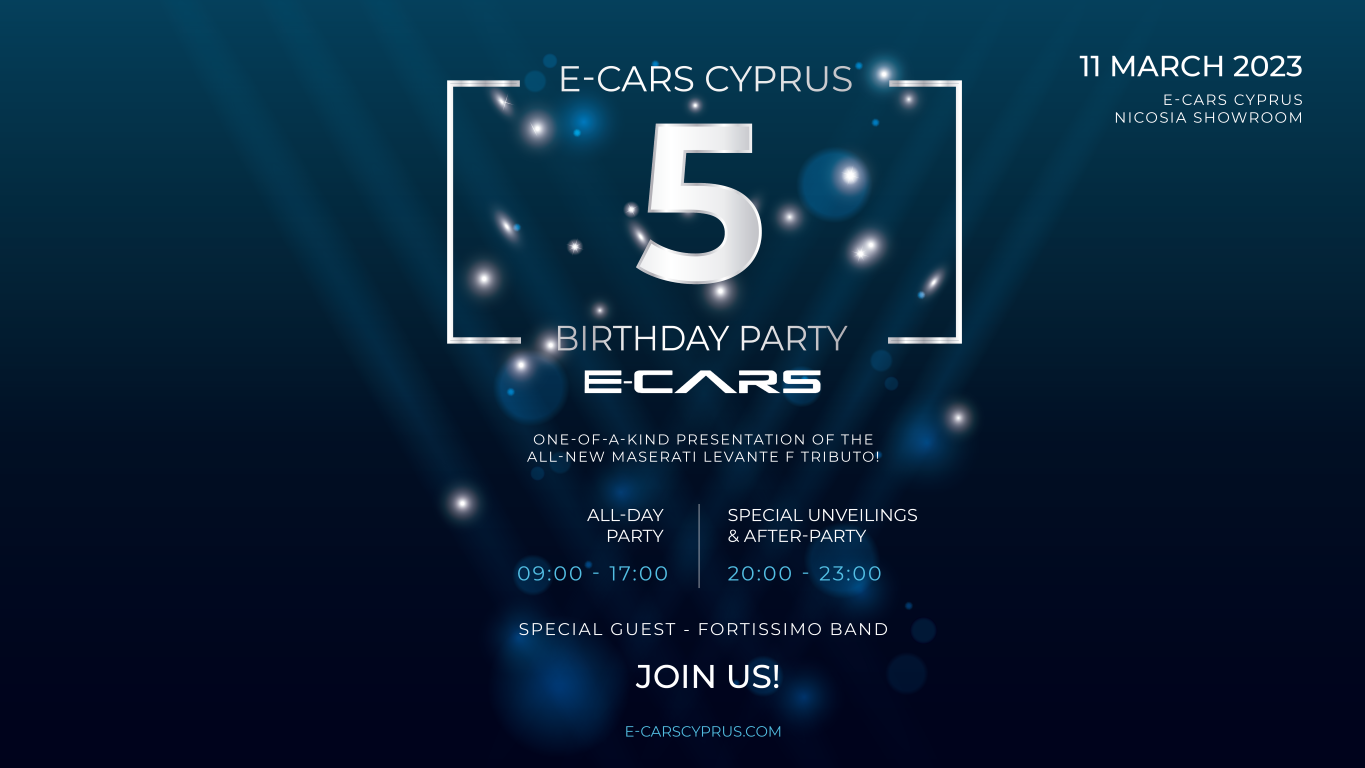 ONE-OF-A-KIND PRESENTATION OF THE ALL-NEW MASERATI LEVANTE F TRIBUTO!
E-Cars Cyprus celebrates five years of presence on the island! Five years of prestige and reliability in the field of luxury cars and electric cars!
We are celebrating a spectacular all-day birthday event on Saturday, 11th of March from 9:00 to 17:00, while we continue at 8 pm with a spectacular unveiling of the Maserati Levante F Tributo making its appearance on the island through a spectacular show.
Special performance by the Electric String Quartet "Fortissimo".
Saturday 11th of March, from 09:00 at E-Cars multi-brand showroom in Nicosia, Mall Of Cyprus, Annex 3.
You are invited! Looking forward to seeing you there!
https://www.e-carscyprus.com/ecars-5-year-event
H E-Cars Cyprus κλείνει 5 χρόνια παρουσίας στην Κύπρο! 5 Χρόνια κύρους και αξιοπιστίας στον χώρο της πολυτελούς αυτοκίνησης και ηλεκτροκίνησης!
Γιορτάζουμε με ένα φαντασμαγορικό ολοήμερο event γενεθλίων το Σάββατο 11 Μαρτίου 9 το πρωί με 5 το απόγευμα, ενώ στις 8 το βράδυ μία από τις μοναδικές στον κόσμο Maserati Levante F Tributo κάνει την εμφάνιση στο νησί μέσα από ένα θεαματικό show.
Special Guests το ηλεκτρικό κουαρτέτο εγχόρδων Fortissimo.
Σάββατο 11 Μαρτίου από τις 9 το πρωί στο υπερπολυτελές E-Cars Showroom στη Λευκωσία, Mall Of Cyprus Annex 3
https://www.e-carscyprus.com/ecars-5-year-event